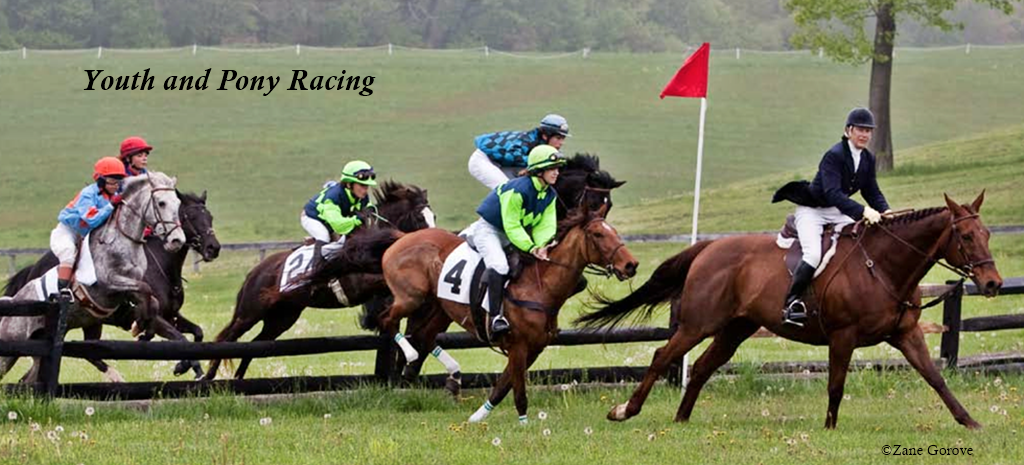 Youth and Pony Racing
2022 SPRING JUNIOR AND YOUNG RIDER OPPORTUNITIES – CLICK FOR THE FULL NEWSLETTER
The TGSF focuses much of its efforts on supporting the next generation of participants in the sport of American jump racing.
In 2013 NAPPA (North American Point-to- Point Association) closed its doors and passed along its mission to the TGSF. With the guidance of U.S. Pony Racing to spearhead the initiatives, the TGSF is helping junior racing gain increased popularity in the USA.
Your financial support helps pay for youth steeplechase camps, domestic and international trips for young amateur riders, the sponsorship of some races such as the Pennsylvania Junior Hunt Cup and the promotion of junior and pony racing at key events, including the Maryland Horse Expo.
More can be done with your continued gifts and guidance. Together, you can help junior and pony racing grow in the areas where it is already established and expand into other geographical areas.
Youth Trips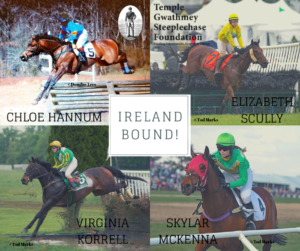 Developing Rider International Trip to Ireland
Chloe Hannum, Virginia Korrell, Skylar McKenna, and Elizabeth Scully were selected to attend the TGSF's Ireland Trip in the summer of 2019. These four jockeys honed their skills at the Irish RACE school; rode sets for trainers Pat Doyle, Jessica Harrington, Willie Mullins, Edna Bolger, and Gordon Elliott; toured Coolmore Stud and the Irish National Stud; and attended the races in Gallway. Since their return from Ireland three of these young ladies have been riding in NSA sanctioned race meets. Skylar McKenna won two jump races in the fall of 2019, and Elizabeth Scully won a training flat race.
Our thanks to Regina Welsh for arranging the trip and being the tour guide, and to Sam Slater and Lornie Forbes for hosting our entire group in Ireland for the week.
Former TGSF Chairman Sam Slater is the mastermind behind the trip, which is based out of his families Cahervillahow estate in the Golden Vale region of County Tipperary. Slater says, "the intention of this trip was to introduce young amateur American jockeys to how other parts of the world train flat and jump race horses. We want these up and coming riders to have a chance to make connections with Irish trainers that they normally would otherwise not come in contact with. A few of the past attendees have gone to work in Ireland after their experience on the trip."
The Temple Gwathmey Steeplechase Foundation promotes the betterment of American steeplechase racing, and supports amateur and young rider programs to help ensure the future of the sport.
TGSF Domestic Rider Trip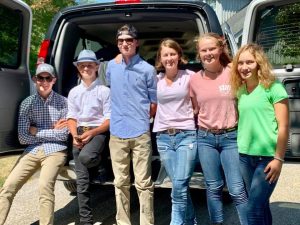 This trip was designed to give young riders between the ages of 15 and 18 a deeper look into American jump racing. The young riders chosen to participate in August 2019 included Colin Smith (Monkton, MD), Teddy Davies (Monkton, MD), Eliza Edwards (Camden, SC), Chase Damron (Elkton, MD), Maddie Rowland (Landenberg, PA) and Parker Hendriks (Unionville, PA).
The trip began in Middleburg, VA and the group traveled to Unionville, Pennsylvania, Saratoga Springs, New York and Monkton, Maryland. Trip participants worked for steeplechase trainers Richard Valentine, Doug Fout, Eva Smithwick, Jonathan Sheppard, Leslie Young, Kathy Neilson, Joe Davies, Jack Fisher, Willie Dowling and Todd Wyatt. They had a mounted hurdle and timber school with jockey Ross Geraghty and walked the Willowdale Steeplechase course with NSA steward Gus Brown. Hall of Fame trainer Janet Elliot took the group to Saratoga where they toured the grounds and met with trainer D. Wayne Lucas.
Our thanks to organizer Regina Welsh, guides Lia McGuirk and Janet Elliot, and all the trainers who allowed our young riders to work for them as well as all the hosts who allowed our riders to stay overnight with them. They had an incredible experience and we look forward to seeing much more from all of these young riders.
The TGSF is dedicated to amateur participation. Your funding gifts provide educational opportunities to aspiring steeplechase jockeys.
To learn more, contact us at YoungRider@tgSteeplechaseFoundation.org
Temple Gwathmey Steeplechase Foundation Developing Rider Flat Race Series Details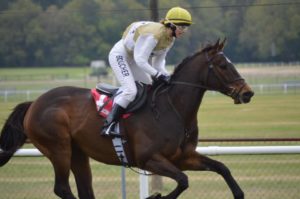 The Temple Gwathmey Steeplechase Foundation Developing Rider Program presents a series of five flat races for young riders for the spring of 2020, with additional races possibly added after publication.
Each participating race meet may have slightly different conditions or rules, but conditions for to be eligible for the series prize are as follows:
Amateur riders 15-21 years of age on mounts no younger than 5 years old
Distances vary from race to race, but typically one mile or longer
Riders are not to have won a sanctioned jump or flat race.
Racing tack permitted but will be inspected and may be requested to be altered by race officials
Catch weights
This is the third year for the series, which was developed to encourage participation of young riders and give them a safe and educational platform on which to compete. The rider, meeting series qualifications, who competes in the most races in the TGSF Developing Rider Series will receive a gift certificate for a Charles Owen helmet, the AP McCoy II model. Ties will be broken based on points earned in the series.
Aiken Pony Derby:
Saturday March 19, Aiken, SC
Old Dominion Hounds Point to Point:
Saturday, April 9, Ben Venue, VA
Blue Ridge Hunt Point to Point:
Sunday, April 17, Berryville, VA
Loudoun Hunt Point to Point:
Sunday, April 24, Leesburg, VA
Willowdale Steeplechase:
Saturday, May 14. Kennett Square, PA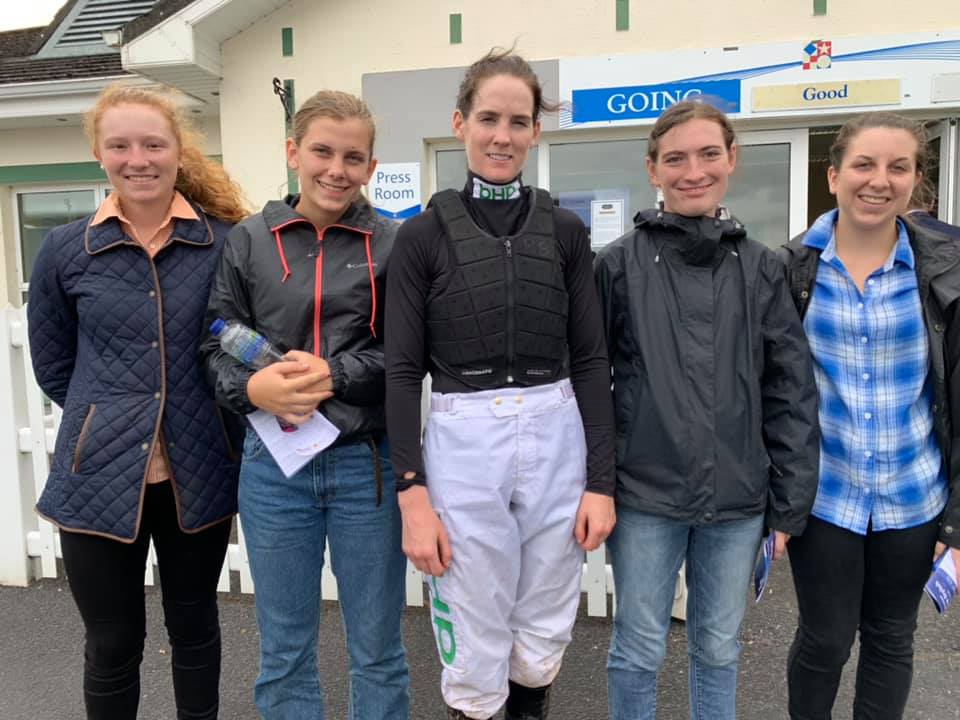 2019 TGSF Developing Rider Ireland Trip participants Skylar McKenna, Chloe Hannum, Virginia Korrell, and Elizabeth Scully with professional jockey Rachael Blackmore. Korrell states, "This trip definitely helped me improve as a rider and taught me a lot about race riding as well as training."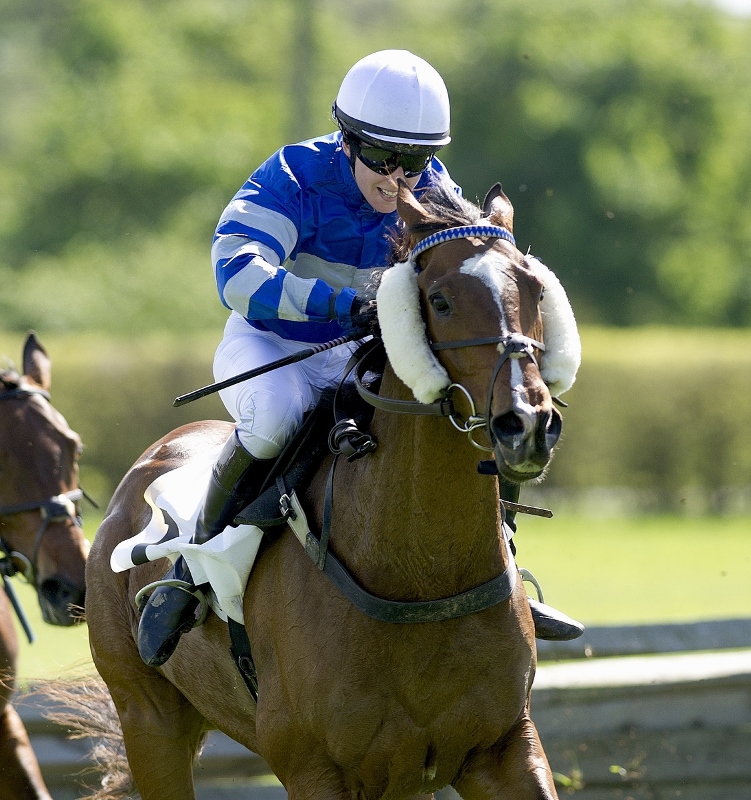 ARCA alum Annie Yeager won the 2015 Vicmead Plate Amateur Apprentice Timber at Winterthur (Photo by Tod Marks)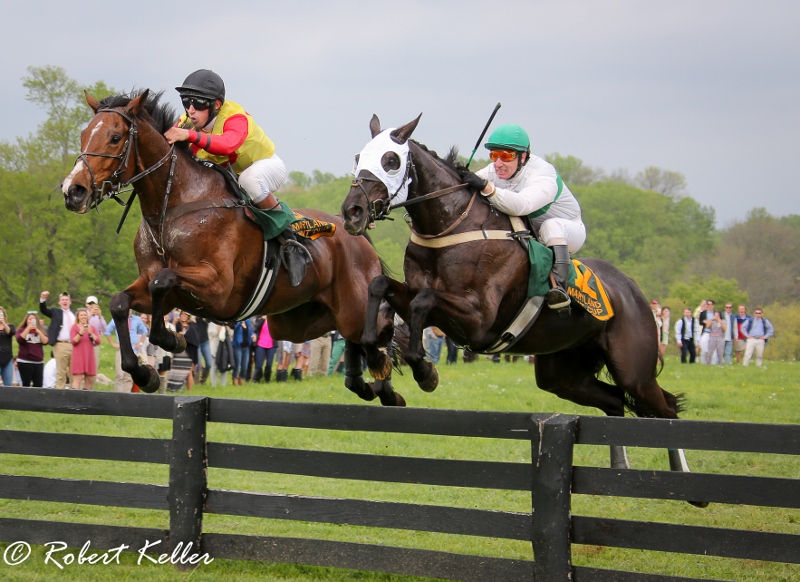 2011 Domestic Young Rider Trip participant Eric Poretz won the 2016, 2018 and the 2019 Maryland Hunt Cup aboard Senior Senator and the 2018 and 2019 Grand National with Senior Senator. (Photo by Robert Keller)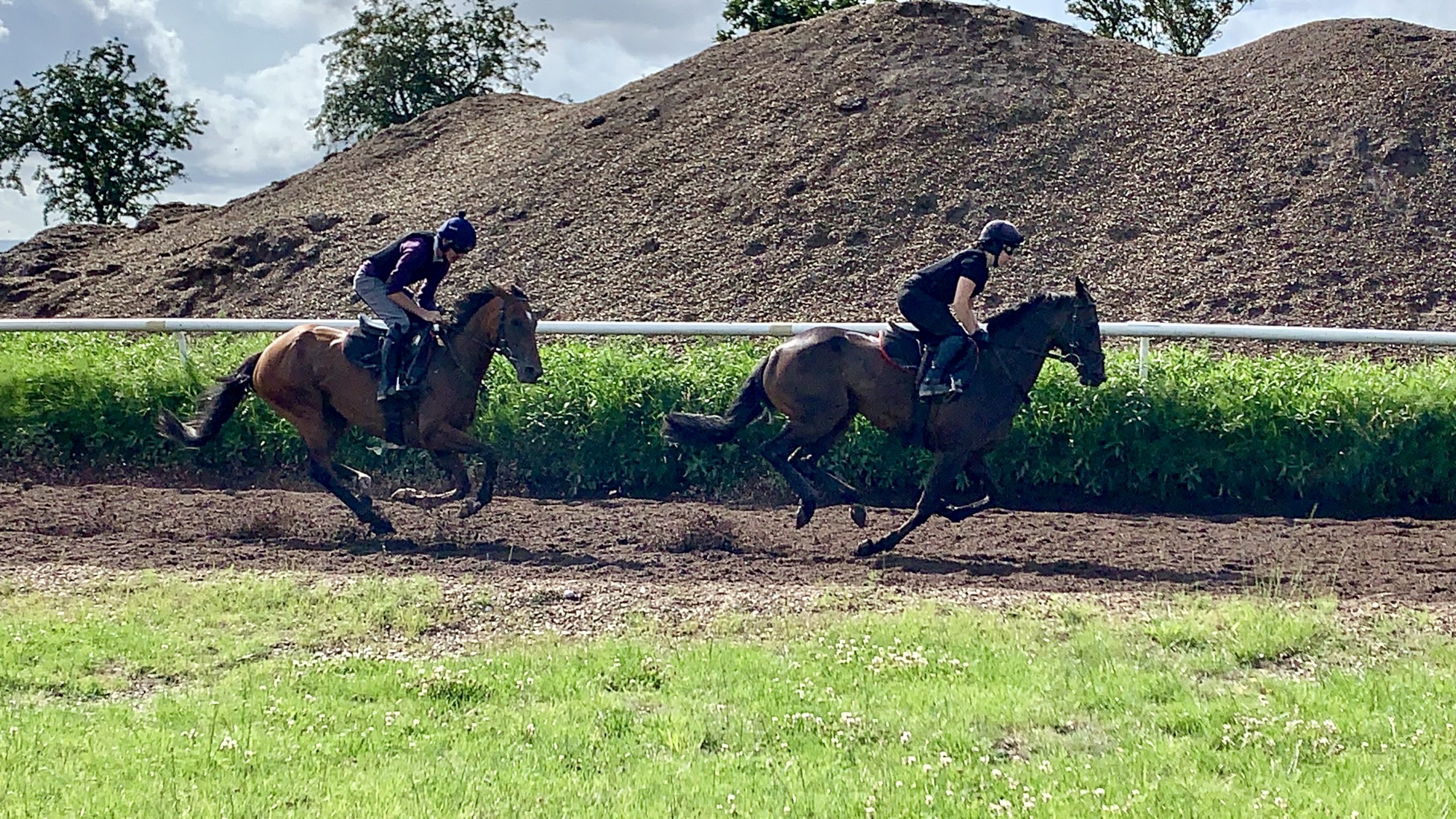 Elizabeth Scully (front) gallops with champion Irish jockey Ruby Walsh on the 2019 TGSF Developing Rider Trip to Ireland. Scully states, "Riding out at various racing yards in Ireland was a life changing experience and even the brief time there changed how I approached riding at home. This is a must-do for any aspiring jump jockeys."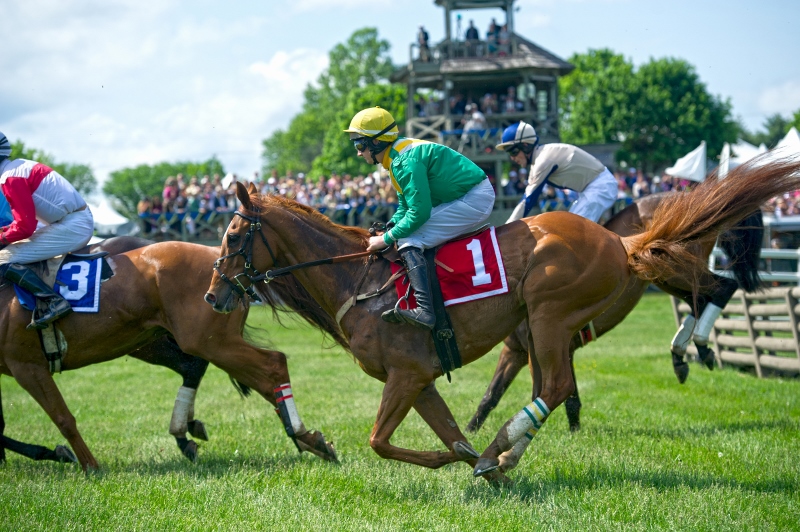 2009 Domestic Young Rider Trip participant Gustav Dahl won the 2017 Virginia Gold Cup aboard Ebanour (Photo by Tod Marks)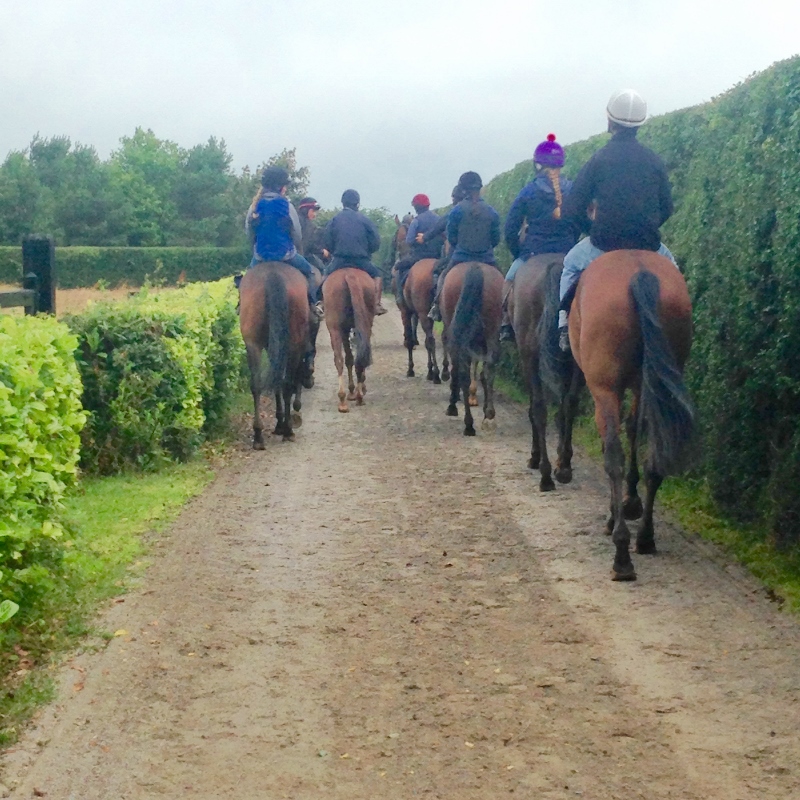 Riding out in Ireland, 2015 NSF International Young Rider Trip participants (Photo by Regina Welsh)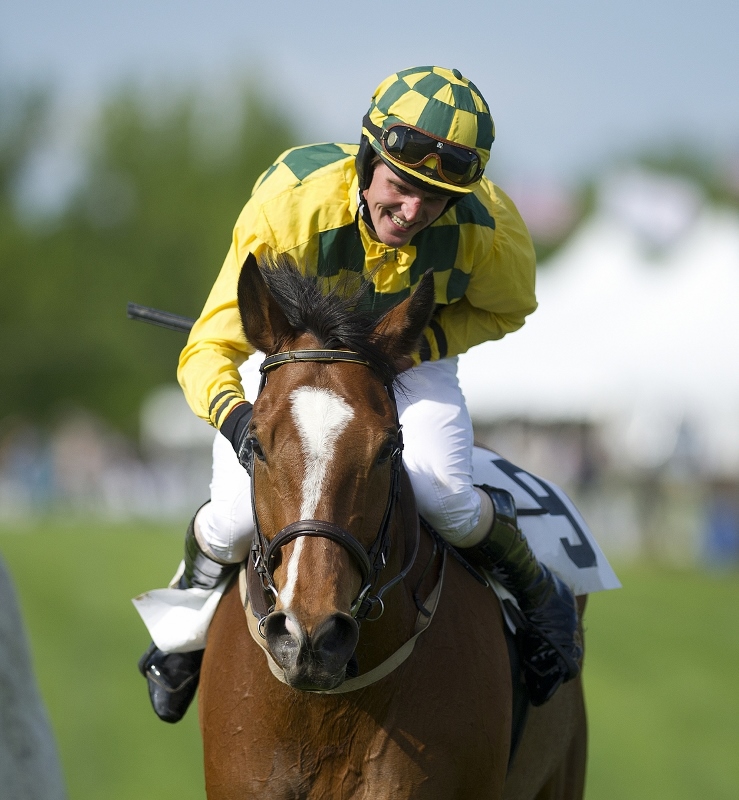 2007 Domestic Young Rider Trip participant McLane Hendriks won the 2016 Middletown Cup Amateur Training Flat at Winterthur Races with Tempt Me Alex (Photo by Tod Marks)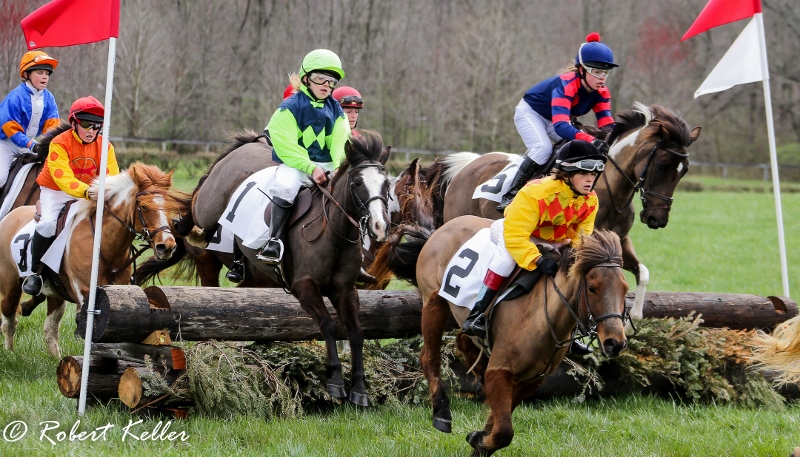 Pony racing at the 2017 Green Spring Point-to- Point, held at Shawan Downs, Maryland (Photo by Robert Keller)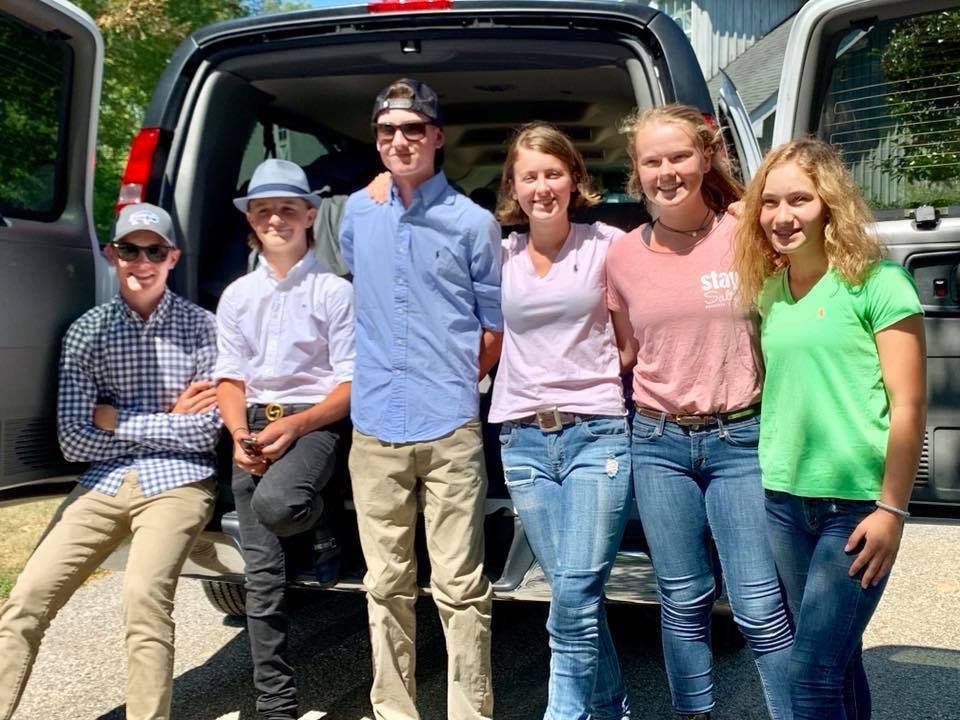 Colin Smith (Monkton, MD), Teddy Davies (Monkton, MD), Eliza Edwards (Camden, SC), Chase Damron (Elkton, MD), Maddie Rowland (Landenberg, PA) and Parker Hendriks (Unionville, PA) on the 2019 TGSF Young Rider Domestic Trip