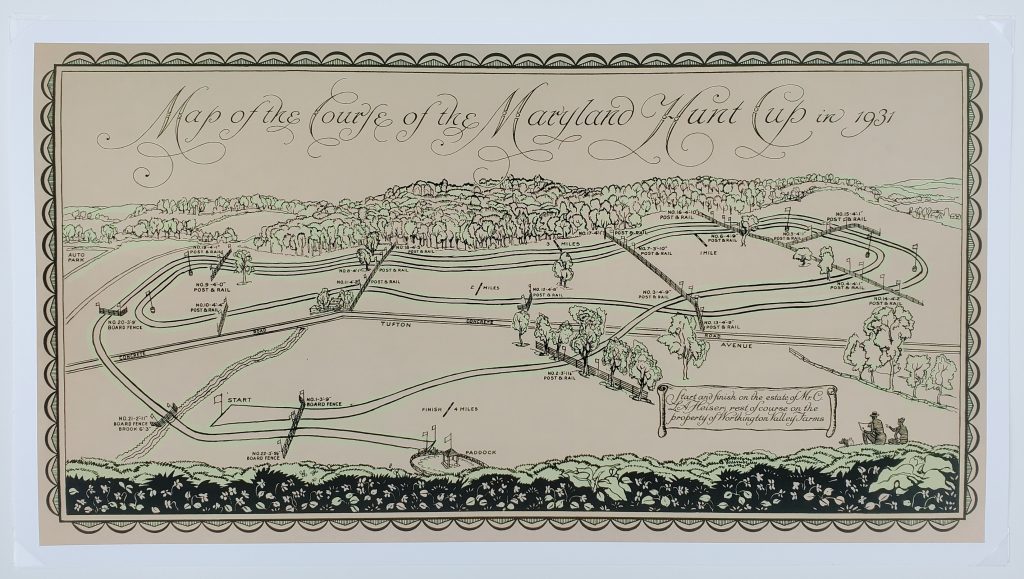 The original of this 1931 Maryland Hunt Cup course map was recently discovered in Maryland Hunt Cup winning jockey Joy Slater's attic. In a fundraising effort spearheaded by Bill Pearce, it has been professionally reproduced and printed on archival paper, ready to frame and hang on your wall. The print is 20 inches by 10.5 inches.
This limited edition, numbered print is available for $125 per print. It will include a Certificate of Authenticity.
All proceeds will benefit the Temple Gwathmey Steeplechase Foundation. Our main fundraising goals this year are to support the NSA live stream efforts as well as to support the purses for apprentice races. Your purchase will assist us in meeting those goals.
We will take orders through the month of April, then will print and mail your map in May.
Use the "Add to Cart" button to pre-order any quantity maps online via our secure PayPal service. PayPal also uses Venmo, so you can check out with your Venmo account as well. Or use your credit card. You do not need a PayPal account to pay online.
If you prefer to send a check, please download THIS FORM and mail the form and a check to us.